Food Beyond Extraction
Food Beyond Extraction is a community-based and performative art project that mobilizes foods and conversations related to the impacts of and resistances to Canadian mining extraction in Global South territories.
Our menu highlights foods and ingredients from regions whose land, food and cultural rights are being threatened by Canadian mining projects in the three countries sponsoring PDAC this year.
Created and run by Dana Prieto in collaboration with Aemilius Milo Ramirez (food design and cooking, concept design and performer), Reza Nik (mobile structure design), Meech Boakye (graphic design and performer) and in conversation with Beyond Extraction Counter-Conference and People Before Profit rally organizers.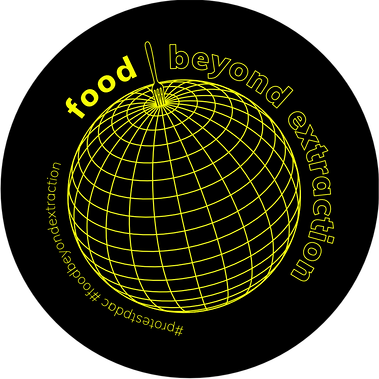 People Before Profit
In February 2020, Food Beyond Extraction took place at the Beyond Extraction Counter Conference (BECC), organized by Graphe, Mining Injustice Solidarity Network and Beyond Extraction Collective.
In March 2020, Food Beyond came out to the streets outside PDAC, joining a coalition of social and environmental organizations in the rally People Before Profit: Evict the Corporate Villains to stand up to colonial extractive violence.
#disruptPDAC